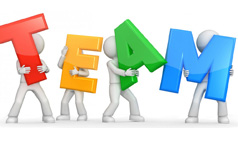 The Team - We Beleive
Eminence Systems believes in Teamwork, productivity and deadline as the necessary ingredients for Success. The management team consists of Professionals having more than 60 man years of experience in the field of Electronics, Communication systems and Networks, Software Designing, Finance and Operations Management. Our Key Core values which we believe in are.
Customer Satisfaction
Solution Designing
Timely Delivery
Problem Resolution
Our KPI's are in-line with customer expectations and we believe that sharing the knowledge and exchanging timely information with the customer can bring success which abreast us from rest of the other vendors. Consistency in our approach and team work are the key factors which play a pivotal role in the success of our organization.
For ease of operations Eminence Systems has different teams with defined Objectives and Key Result Areas: Marketing, Product Management, Design, Resource Planning and Execution. Team Work is the driving force and on numerous occasions we have seen individuals surpassing their Responsibility Matrix to beat the Time, Quality and Cost Estimates.